Puppies (03-11-2010)
German Shorthaired Puppies
"Birdey and Pretty"
born March 11, 2010
Sire: CH Southwind's American Pie MH (Buddy)
Dam: CH Braebrook's Let The Games Begin (Jenna)Â 
Click here to see the puppies' pedigree
2 boys, 4 girls
(Click on any picture to see pedigrees)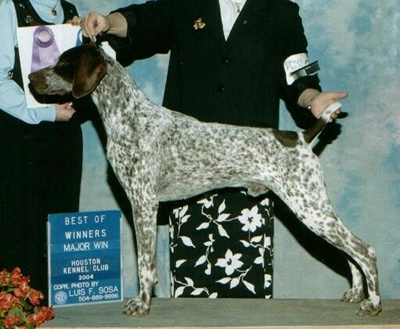 Sire: CH Southwind's American Pie MH (Buddy)
Buddy is a Show Champion, Master Hunter and beloved house dog.
Here he is winning in Houston!
JANDAL Shorthairs are required to combine the best of all 3 worlds:
loving, easy-going house dogs that make superb family pets;

gorgeous, athletic, correct conformation and style that does very well in the show ring;

extreme desire to hunt birds, fast learners and easy to train!
Our puppies are raised in our home, receiving handling and attention every day. Living on 1150 acres of great quail country, the puppies have access to lots of room to romp, play, and develop their natural instincts.
Our current litter was whelped 3/11/2010. The puppies' sire is "Buddy". "Buddy" is a very unique and special dog: he is not only a show ring Champion, and a Master Hunter, but also a great gun dog, and a real pleasure to hunt with.

Temperament testing will be performed at 7 weeks. We will start wing & bird intro-training with the puppies at the same time. We live on 1150 acres of outstanding quail country, so field work is a regular feature for our puppies. We will also start leash and crate training, and introduce them to water. Check back often to see the latest information on these puppies!
Our puppies are sold with a two-year health guarantee against hereditary defects. Since we live only 3 hours from DFW airport, we can ship a puppy just about anywhere on a nonstop flight.
For more information, please contact us at:
325-201-3200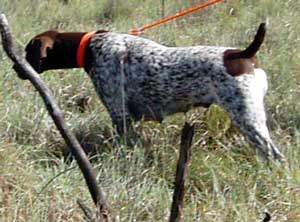 Dam: CH Braebrook's Let The Games Begin (Jenna)

Jenna is a Show Champion and also loves to hunt birds!

Here she is on point for the FIRST TIME after finding a bird. Notice the check-cord to insure she wouldn't "bust the bird"..she didn't! She held her point until we flushed the bird. Not bad for her first day in school!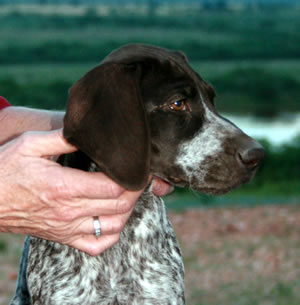 "Rita" (Puppy 4 - Female - 11 Weeks)
Check Back Often to see updated Puppy Pictures!