NEWS FLASH
ELKHOUND PUPPIES!
JANDAL Norwegian Elkhound Puppies born August 10, 2012.
This litter is sired by CH Jandal's Patriot Games (Jack). The puppies' mother is Jandal's Jezebel (Jezzy)!

THESE PUPPIES HAVE ALL BEEN PLACED IN THEIR NEW HOMES!
This is a repeat breeding of the litter that produced CH Jandal's Raider Of The Lost Ark (Indi) (See picture of Indi winning his championship below)!
Click Here For Norwegian Elkhound Puppy Information!
Click Here to see the puppies from the first breeding!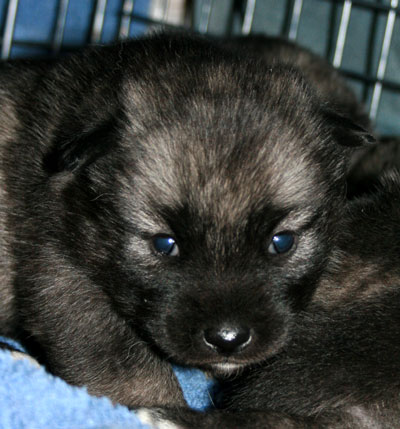 At 21 days, an elkhound puppy contemplates life!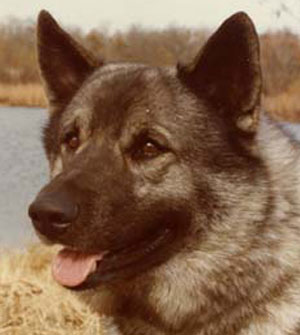 A classic elkhound head (Bear)

JANDAL has been actively showing and breeding top-quality Norwegian Elkhounds since 1980 and German Shorthaired Pointers since 1998. Our dogs are known for loving, outgoing personalities, who enjoy "meeting and greeting" visitors, and are very gentle with children.

Veterinarian owned and operated, we are a small, select kennel, where special emphasis is placed on rigorously screening all JANDAL elkhound and shorthair breeding stock for genetic diseases, including hip dysplasia, hypothyroidism, progressive retinal atrophy, and renal glycosuria. Our dogs are used for breeding only AFTER they have cleared all their genetic testing! Our puppies are generally available once or twice a year.

The addition of a JANDAL Norwegian Elkhound or Shorthair to your family assures a loving, healthy new family member to enjoy for the next 15-20 years!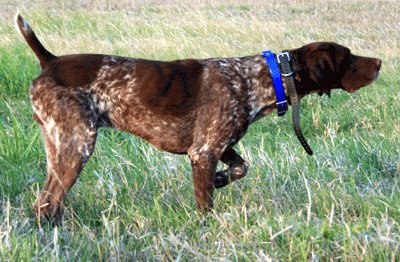 Tyrel on point at the Ranch - June, 2011



The "Honor From Hell" - Karla, at a Master Hunt Test, introduces you to "Steady to Wing and Shot", plus shows her patience with a 3:28 second "honor".

Dreaming about quail at 3 days old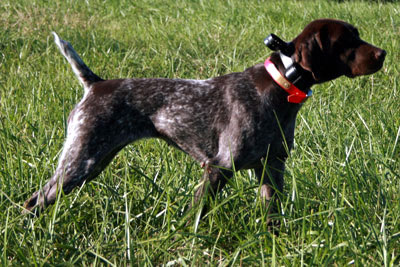 Karla on point in Missouri - Sept., 2008
New Jandal Master Hunter!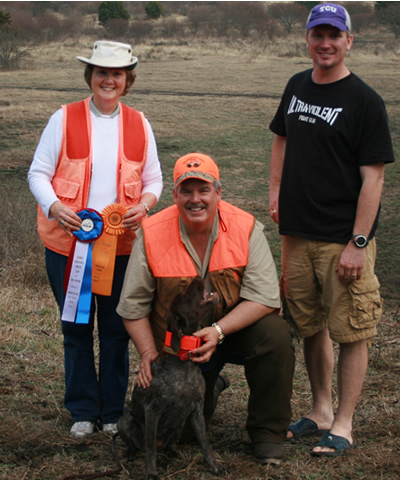 FC The Perfect Girl Karla, MHA ("Karla") finishes her Master Hunter title with 6 straight Master Hunter Test successes! Has 13 straight Master qualifications to date. Click on the picture to see Karla's pedigree
New Jandal Champion!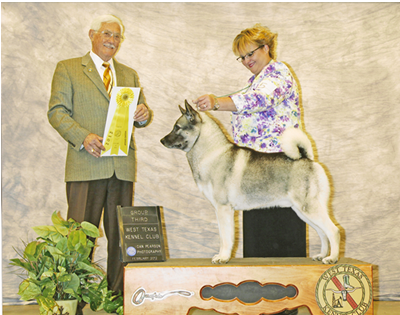 CH Jandal's Raiders Of The Lost Ark ("Indi") finishes his Championship and follows with a Group 3 at the West Texas Kennel Club show! Click on the picture to see Indi's pedigree
New Jandal Field Trial Champion!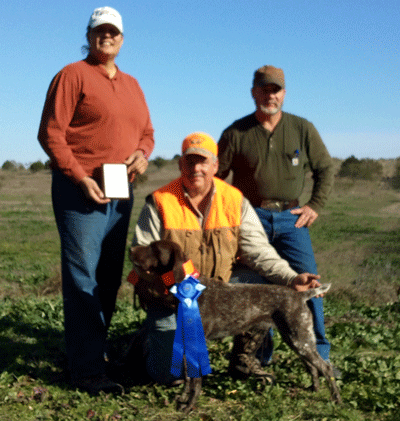 FC The Perfect Girl Karla, MHA ("Karla") finishes her Field Championship title with a field trial win Cibolo, Texas! Click on the picture to see Karla's pedigree
New Jandal Champion!
CH Jandal's Patriot Games ("Jack") finishes his AKC championship with a 5 point major win at Houston! Click on the picture to see Jack's Pedigree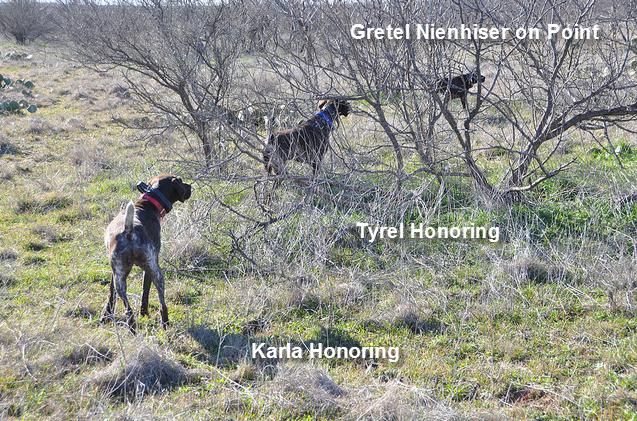 Karla and Tyrel backing Gretel's point
quail hunting in north Texas - Feb. 2012