Jandal's The Daybreaker, MH
"Tyrel"
Born December 20, 2007


Tyrel was born December 20, 2007. His sire is the famous Dual Champion & Master Hunter "Karl." His dam is our "Jenna," the second Champion Jandal GSP and first GSP dam for Jandal.
Tyrel completed his Master Hunter title easily, and had several placements in field trials. A shoulder injury ended his career running in field trials. The injury was treated surgically, and Tyrel has been completely sound and pain-free since then. However, to prevent future arthritis and pain issues, we retired him from the grueling competition of field trials. He is a finished gun dog; he can be taken out in the field and hunted over any time, anywhere.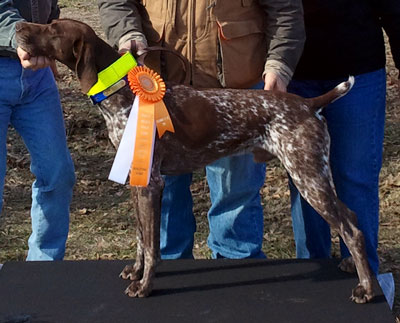 Tyrel winning his second Master Hunter Leg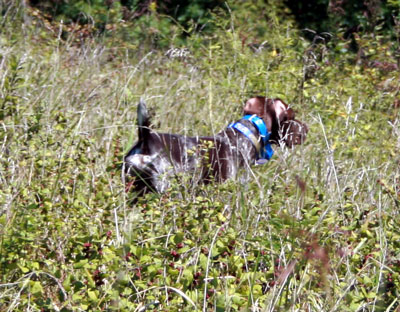 Tyrel stopped on this bird so fast
his ear flew over his head
Tyrel is a very pleasant, quiet house dog, with good manners. He loves to just hang out with folks while watching t.v., working on the computer, whatever. He is used to sleeping in a crate or a dog bed at night, as he isn't allowed to sleep in the bed or on the furniture. He loves to play with fuzzy squeaky toys, and carry them around. Tyrel is also protective of the house - he has an excellent "who are you!?" bark, but always remembers folks he's been introduced to.
He enjoys cats and has always been very gentle with them and small dogs. He also has high prey drive, common in many GSP's; if critters get into his yard (such as skunks, raccoons, stray cats, rodents, etc.) he will make sure they don't leave.
Tyrel had a very frightening experience in 2013, when a microburst or tornado came over the ranch and blew debris all through the yard. The results of the experience was a fear of thunderstorms (which has since been conquered), and learning to climb the fence (as an escape route). As a result, Tyrel can't be left in the yard unsupervised - he has been known to climb the fence to go after critters!
Tyrel is an excellent traveler - if the vehicle is moving, he's stretched out sound asleep. He is comfortable traveling in a crate when in a vehicle, or just laying on the back seat. When the vehicle is parked, he sits up and assumes guard duties. He LOVES to go along running errands. He will climb in the side door, or hop in the back, doesn't matter.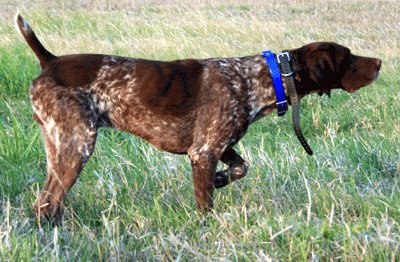 Tyrel on point at the Jandal Ranch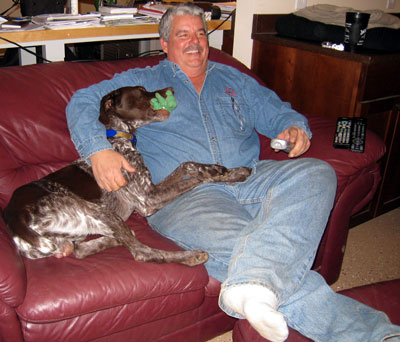 Tyrel enjoying a toy and television
Tyrel has enjoyed being around children at hunt tests and field trials, and has been very gentle with them. He has never been around pet birds; German Shorthairs and pet birds are problematic - they ARE bird dogs, after all!
Tyrel is, of course, up to date on all his vaccines, is on heartworm prevention, and is very healthy. His hips have been xrayed and proven free of hip dysplasia. He should lead a long, healthy life.
Tyrel is available to the perfect home for him: he needs to be a house dog where he's an integral part of the family. He can happily be a jogging buddy, beach bum, or just hang out during the warm months and go find birds during hunting season.