CH Jandal's Trouble In Texas
"Rita"
Born March 10, 2010


Rita was born March 10, 2010. Her sire is "Buddy," a Champion/Master Hunter living outside Austin. Her dam is our "Jenna," the second Jandal champion German Shorthaired Pointer and first Jandal GSP dam.
Rita finished her Conformation Championship with ease, and then was well-started on birds in the field. Unfortunately, a uterine infection caused the need to spay her, so future plans for pursuing a Field Championship were dropped.

Rita finishing her Championship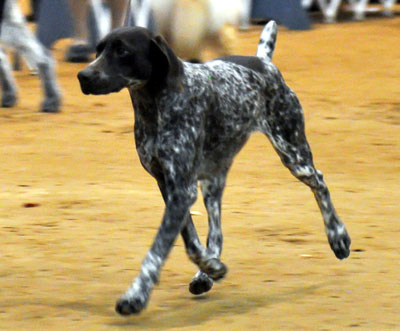 Rita in the Group ring
One of the nice spin-offs from her field training is Rita is a delight to go on long rambles with - she loves to explore (including any handy ponds or lakes), but reliably comes back at a run when called.
Rita is a delightful dog in the house, with excellent house manners and has never counter-surfed. She is a retrieving fool, and will happily play fetch. She usually manages to cram 2 or 3 toys into her mouth, to proudly carry around. She is used to sleeping in a crate at night, or a dog bed - we haven't allowed her to sleep on the bed or furniture. She respects confident cats who still have their claws, but she shouldn't be around timid and/or declawed cats, or small dogs. She enjoys playing with other dogs, especially energetic male dogs. She loves her baths, and happily hops up on the grooming table for a good brushing.
Rita has, literally, traveled all over the United States, and is a perfect traveler - if the vehicle is moving, she's stretched out sound asleep. She is used to traveling in a crate when in a vehicle. She will climb in the side door, or hop in the back, doesn't matter.
Rita has enjoyed being around children at dog shows, dog parks and other venues, and has been very gentle with them. She has never been around pet birds; German Shorthairs and pet birds are problematic - they ARE bird dogs, after all!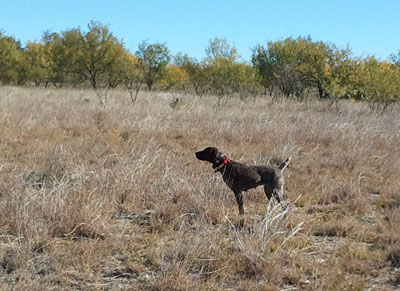 Rita on point at the Jandal Ranch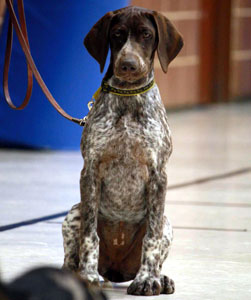 What a sweet dog!
Rita is, of course, up to date on all her vaccines, is on heartworm prevention, and is very healthy. Her hips have been xrayed and proven free of hip dysplasia. She should lead a long, healthy life.
Rita is available to the right home where she can have a job again - whether playing energetically with her canine housemate, going for long rambles with her humans, playing fetch or simply supervising her humans' every move. She loves to learn, so would be a good candidate for Rally or Agility training.